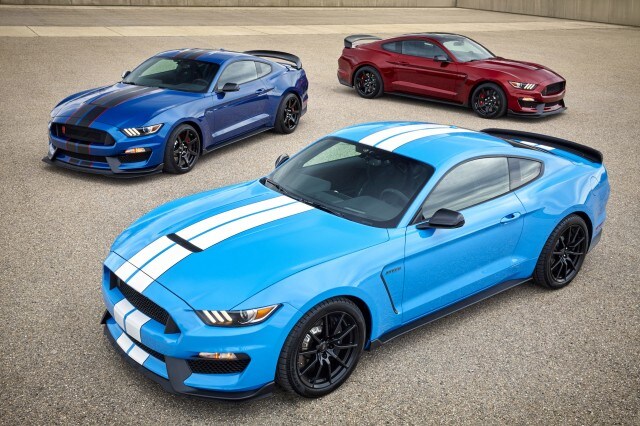 In April 1964, the Ford Mustang model made its first debut in the American automotive market. In 1965, the Ford Mustang became the most popular vehicle manufactured since the Model A. It has been a long run with the Ford Mustang and it is only getting better, bringing you this year's 2017 model, which will top all others.


New Color Schemes
The new 2017 Ford Mustang comes in a variety of new and beautiful colors that phase out last year's including Grabber Blue, Lightning Blue, White Platinum and a Ruby Red Metallic for the GT350. On average, the 2017 ford Mustang achieves 18 mpg in-city and 27 mpg on the highway. Depending on your desired powertrain, you are going to get more or less than the average. At the base price of $24,915 a Mustang can be yours today, just choose a glamorous color and powertrain.


Upgraded Features
All 2017 Mustang GT350s, will come with the Track Package full of amazing features including a high-down force rear spoiler, an aluminum tower-to-tower brace, coolers for the engine oil, transmission and differential, and the MagneRide dampening system. Ford stepped up the technology for the GT350s this year by including navigation, power adjustable leather sports seats, and a nine-speaker sound system.


6 Speed Manual or Automatic?
The new Mustang has a few different powertrains to choose from depending on your needs. There is the 3.7-liter V6 engine at 300 horsepower paired with a six-speed manual or automatic. The Mustang GT has a 5.0-Liter V8 at 435 horsepower with either a six-speed manual or automatic transmission. But if you are going for the ultimate powertrain, select either a GT350 or the GT350R, which has a 5.2-liter V-8 with 526 horsepower with a six-speed manual only.


5-Star Safety Rating
Receiving five star ratings for safety in a number of areas has been attributed to the high-quality safety features offered by Ford, which they never slump on. Consumers can expect features like anti-lock brakes, stability control, lane departure warning, rollerover protection system, blind spot monitor, air bags, brake assist, and much more.
Upgraded Technology
The 2017 Ford Mustang isn't without the glorious modern-day technology we love so much, and includes Ford's signature SYNC 3 technology, proximity key, Bluetooth, Apple CarPlay, Android Auto, two USB ports, and a lap recording features for the racer in you.


More Information?
To learn more about the new 2017 Ford Mustang, call or visit Phil Long Ford of Denver, Colorado and we will point you in the right direction. We also offer leasing and financing options to meet your car purchasing needs!