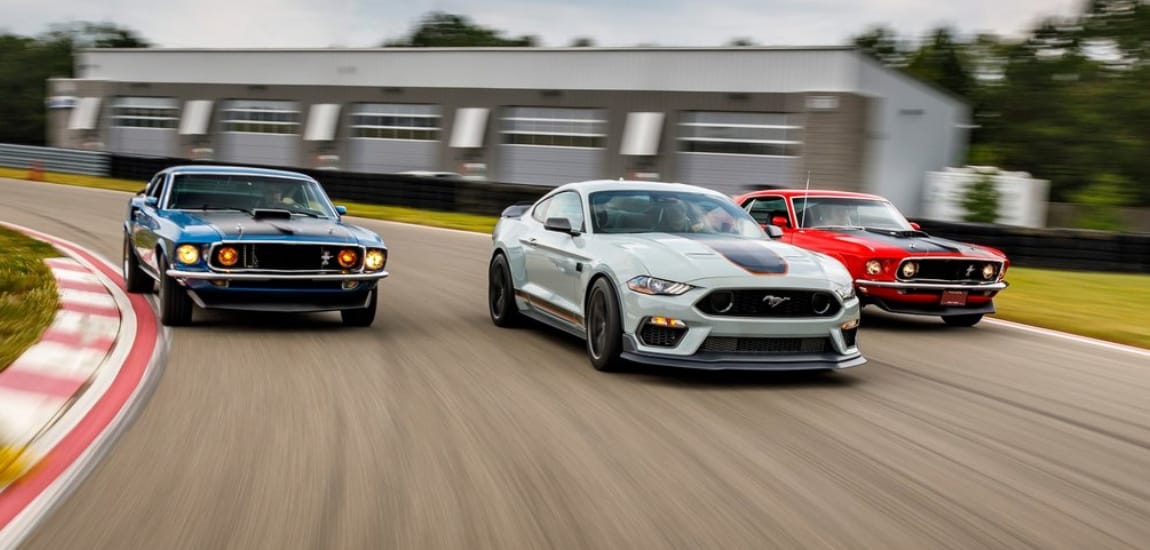 *New vs. Old Ford Mustang Mach 1 shown.
Many changes are coming to the 2021 Ford Mustang, including the Mach 1 Limited Edition model's arrival. To help you understand what to expect, we will look closely at the latest 2021 Ford Mustang news. Our evaluation will include the new Ford Mustang pricing, configurations, engine options, and features.

Browse New Ford Mustangs


When is the New 2021 Ford Mustang Release Date?
We expect the 2021 Mustang to arrive early next year, just before Spring 2021. However, the 2021 Ford Mustang Mach 1 might come slightly later.


2021 Ford Mustang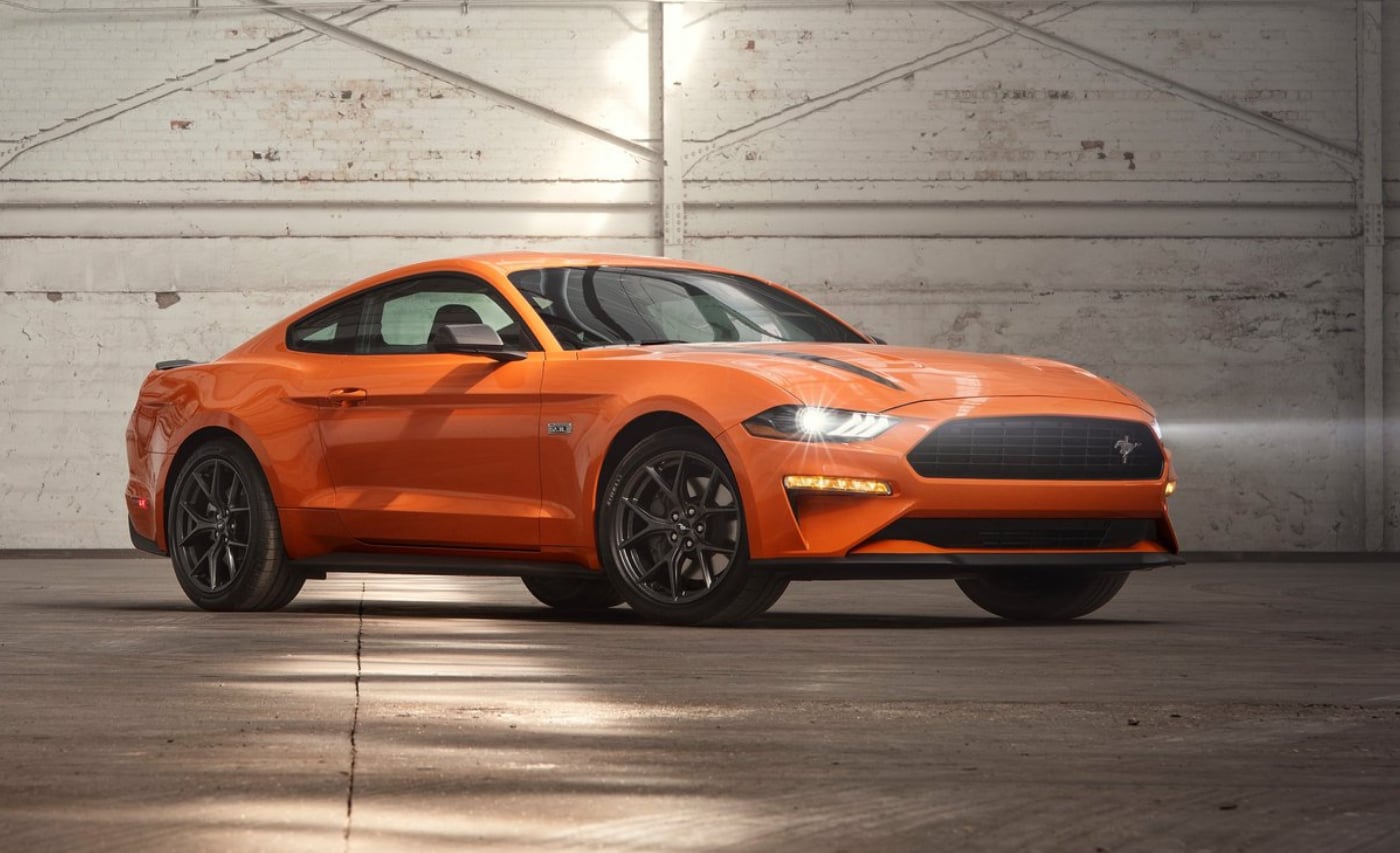 Inquire About a New Ford Mustang Today
2021 Ford Mustang Price & Trim Levels
We are currently expecting five trim levels with the new Ford Mustang lineup. The 2021 Ford Mustang price starts around $28,000. We will update this section as information is revealed, but here are a few price estimates to consider.
EcoBoost: $28,000 (est.)
GT: $37,000 (est.)
Bullitt: $49,000 (est.)
Mach 1: $52,915 (est.)
Shelby GT500: $71,000 (est.)


2021 Ford Mustang Mach 1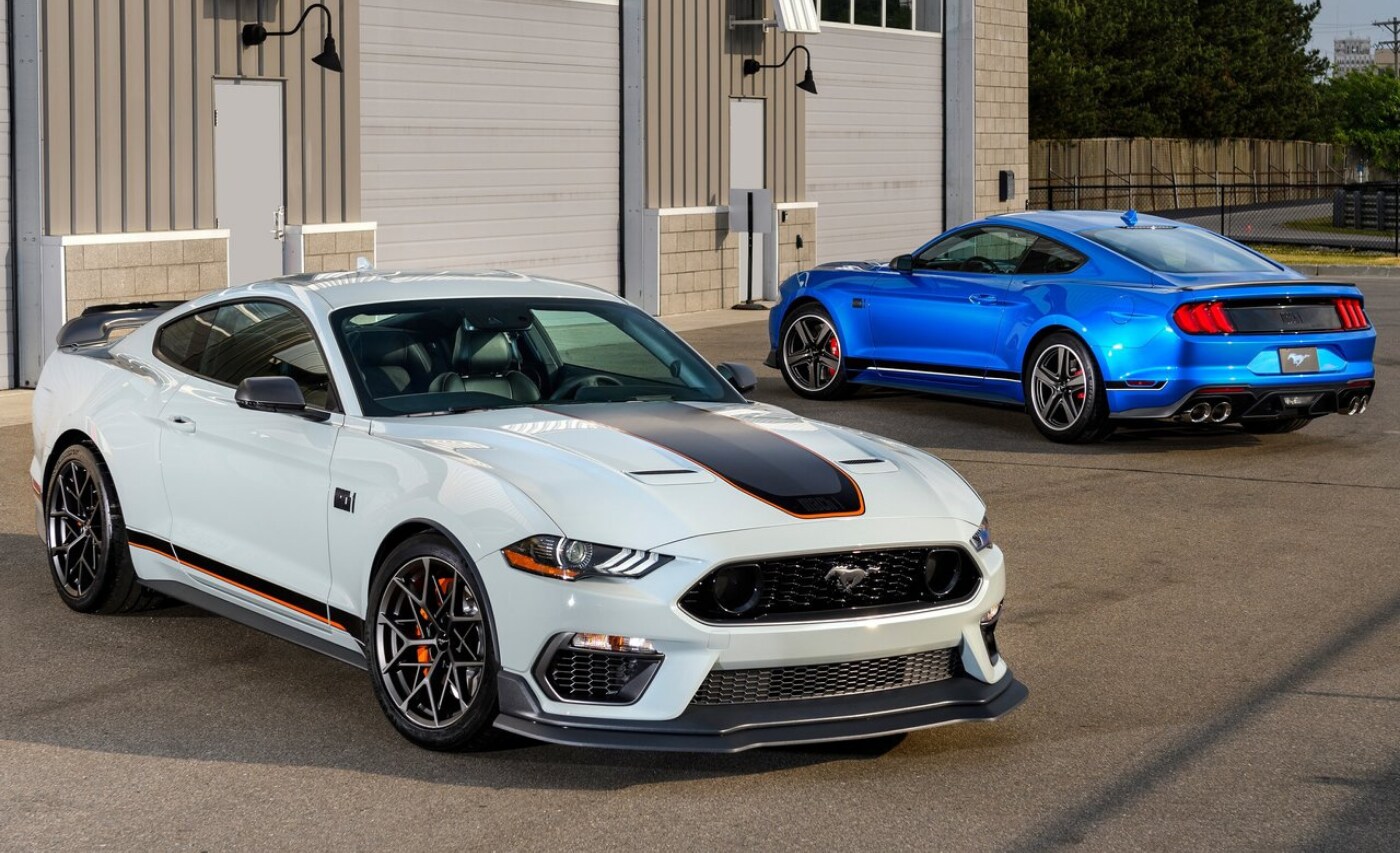 The 2021 Ford Mustang Mach 1 is powered by the same engine found in the Bullitt models. The Mustang Mach 1 engine is a 5.0-liter V8 that produces 480 horsepower and pumps out 420 lb-ft. of torque. Additionally, the Limited-Edition Mach 1 comes with more premium features than some of the other models. You will find six-way power-adjustable front seats, leather upholstery, heated and ventilated front seats, selectable drive modes, dual-zone automatic climate control, and heated outside mirrors.
The 2021 Mustang Mach 1 also features some extra exterior styling, similar to what was found with the Shelby GT350. There are lower front vents to cool the transmission and engine. Above the vents, you see the incandescent turn signals and parking lamps. A Magnetic pony badge is found between the intake holes that are integrated with the grille. Plus, the 2021 Ford Mustang Mach 1 comes with Michelin Pilot Sport 4s tires and 19-inch five-spoke painted aluminum wheels.

Browse New Ford Mustangs


2021 Ford Mustang Shelby GT500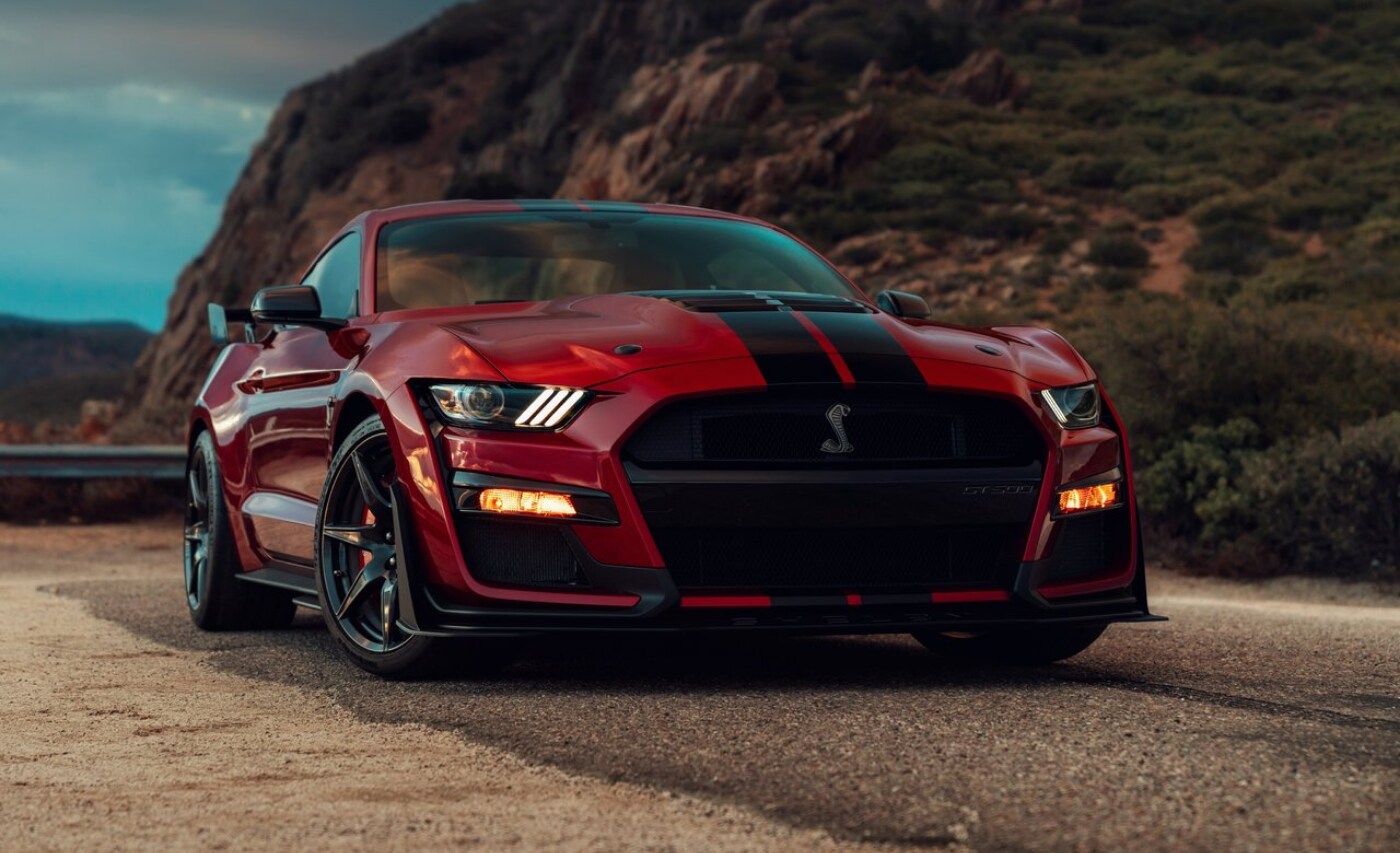 The 2021 Ford Mustang Shelby GT500 contains a supercharged 5.2-liter V8 engine. The 5.2L V8 engine pushes this Ford Mustang's horsepower up to 760 ponies with a top speed rated at 186 mph. For 2021, the Mustang Shelby GT500 gets a few improvements, including the new Carbon Fiber Handling Package, an optional upgrade.

Shop New Shelby GT500


Is there going to be a 2021 Ford Mustang GT350?
Sadly, the Ford Mustang GT350 and GT350R will be driving off into the sunset as those models will be discontinued in 2021. The GT350 Mustang models will be replaced with the Ford Mustang Mach 1 for 2021, which offers just as much performance, including the same Tremec TR-3160 manual transmission found in the GT350 with some additional styling features.


2021 Ford Mustang Exterior Colors & Dimensions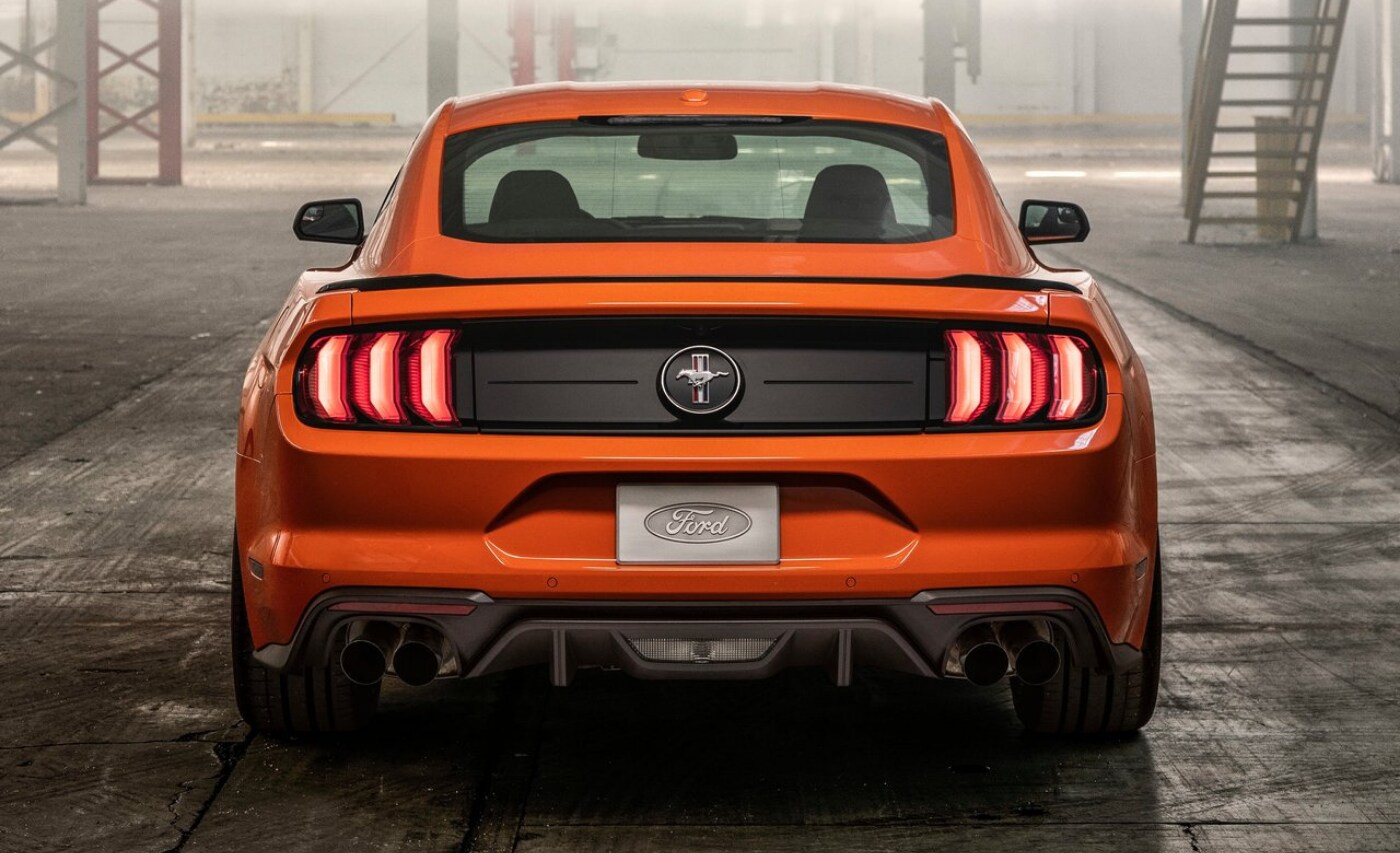 The 2021 Ford Mustang exterior dimensions measure 188.5" L x 75.4: W x 54.3" H. These dimensions allow for 83 cubic-feet of total passenger volume. There are seven exterior color choices with the new Ford Mustang, including Velocity Blue, Grabber Yellow, Oxford White, Twister Orange, Race Red, Shadow Black, and Iconic Silver.


2021 Ford Mustang Body Styles & Configurations
You can find both the EcoBoost and GT in either the fastback coupe or convertible body style. However, the higher-end trim options only come as a coupe. Some exterior packages make the new 2021 Mustang look even better, including the Black Accent Package with black styling and the California Special Package with unique badges.

Browse New Ford Mustangs


2021 Ford Mustang Engines & Horsepower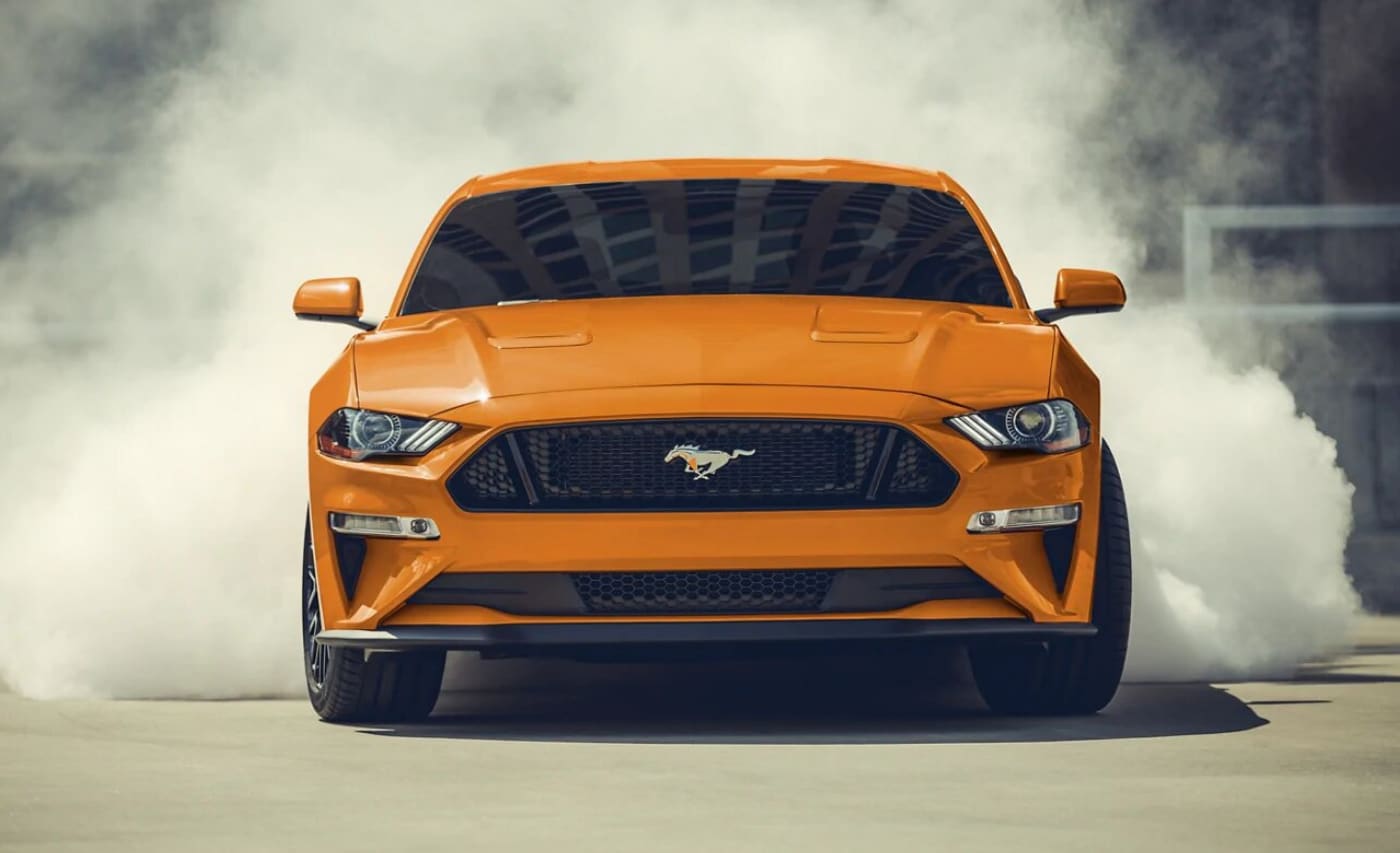 There are several engine options with the 2021 Ford Mustang. The base model comes with a 310-horsepower 2.3-liter turbocharged EcoBoost four-cylinder. There is the available 460-horsepower 5.0-liter V8, which can be upgraded to pump out 480-horsepower instead. Most Mustang models offer a six-speed manual or ten-speed automatic transmission, with a seven-speed dual-clutch automatic for the GT500.


2021 Ford Mustang Top Speed + Acceleration
All of the 2021 Ford Mustang models offer plenty of thrilling acceleration and adrenalizing speed. Here's how they compare in terms of 0-60 mph acceleration and top speed.
| | | |
| --- | --- | --- |
| Trim | 0-60 MPH Time | Top Speed |
| EcoBoost | 5.1 sec. | 155 mph |
| GT | 4.4 sec. | 155 mph |
| Bullitt | 4.4 sec. | 163 mph |
| Mach 1 | 4.2 sec. | 163 mph |
| Shelby GT500 | 3.6 sec. | 186 mph |
2021 Ford Mustang Interior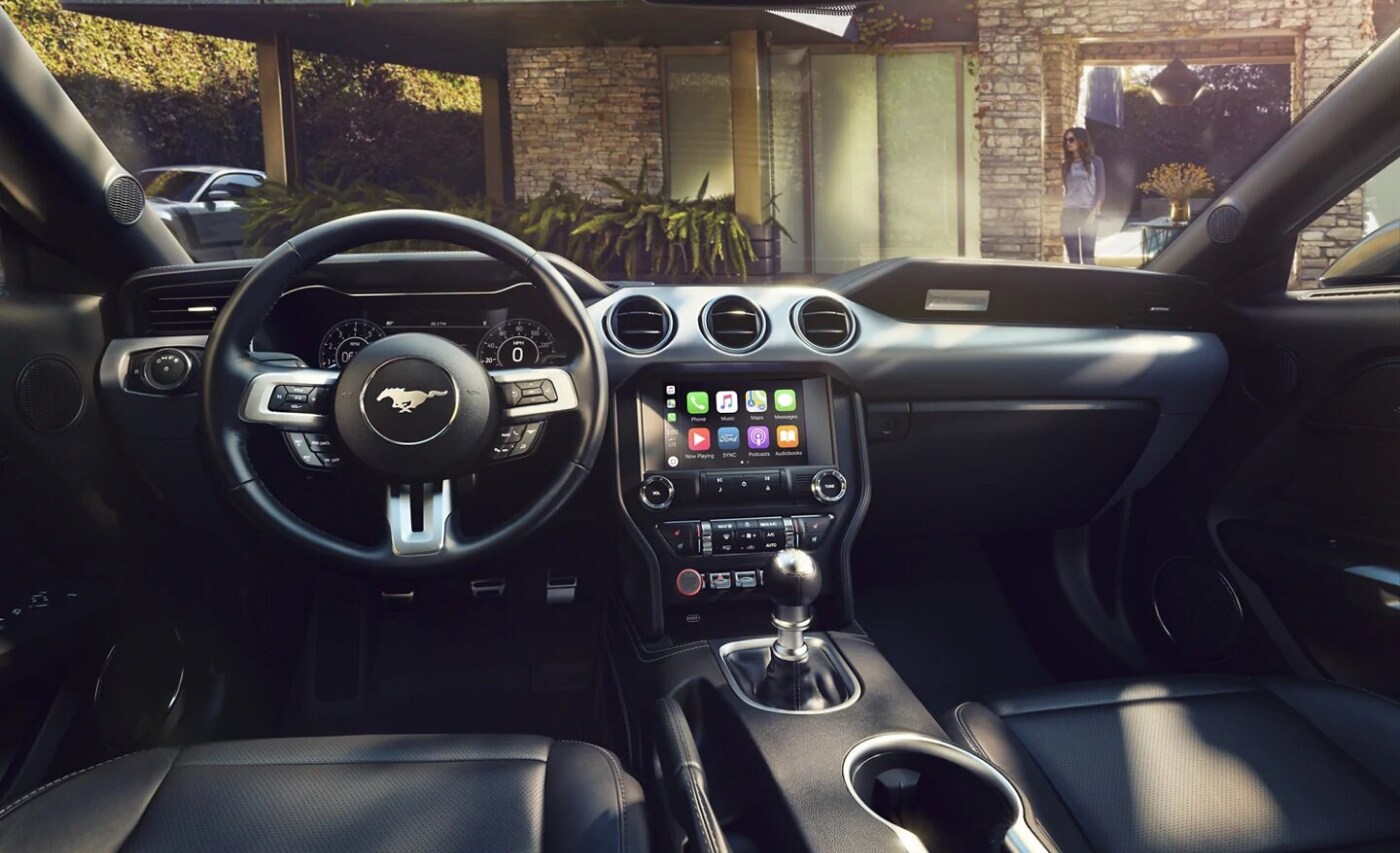 The 2021 Ford Mustang is a classic, real muscle car with 2+2 seating. However, the Shelby GT500 Mustang doesn't have a back seat at all. You will find a 13.5 cubic-foot trunk in the Mustang Fastback, while the convertible has 11.4 cubic feet of trunk space.

Browse New Ford Mustangs


2021 Ford Mustang Technology & Features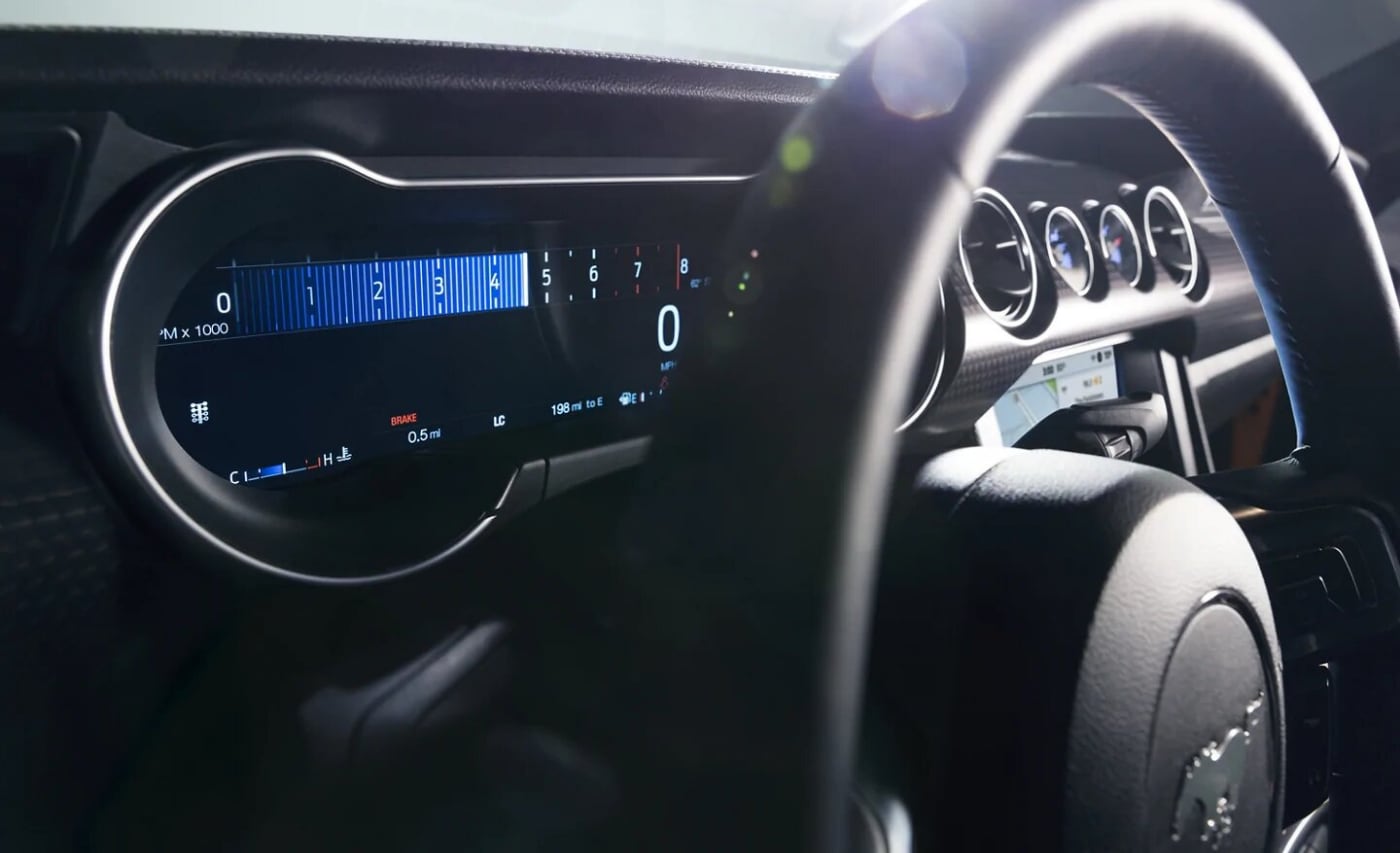 All Mustang models come equipped with a voice-controlled SYNC system and display. Owners also gain access to the FordPass Connect app. For more function, upgrade with a nine-speaker stereo system, satellite radio, Apple CarPlay, Android Auto, and an eight-inch touch screen. You will also gain a rearview camera with all new Mustang models.


Will there be an Electric or Hybrid Mustang in the Near Future?
Ford has been hinting at the possibility of an electric or hybrid mustang down the line. However, we don't know when or if this will happen. While you wait for an all-electric Mustang, you might want to check out the brand-new Mustang Mach-E crossover that is sure to impress.