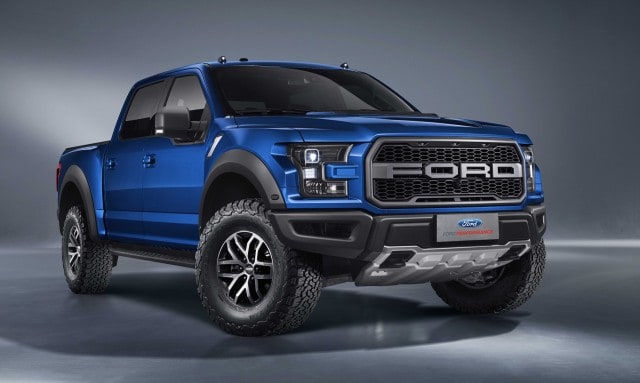 Why Choose a 2017 Ford F-150 Raptor?
The year 2017 has brought us so many wonderful things in the automotive world like the Ford Raptor F-150, as one of the fleets of new vehicles that have us quickly ditching our old and out dated ones. Among those exciting new vehicles in the 2017 Ford F-150 Raptor and mainly because of the incredible powertrain with a 10-speed automatic transmission and a 3.5-liter twin-turbocharged V-6 with 450 horsepower. And if you didn't know already, the 2017 Ford Raptor is offering six new driving modes to enhance your ride for those off-roading trips to the desert. You'll fall in love with this truck after just one ride, and we promise you that, but first, here is some more information about its greatest features.


6 New Driving Modes
The new 2017 Ford Raptor comes with 6 driving modes depending on the type of earth you are intending to conquer. The driving modes are the most exciting part about the new Raptor according to critics. The first mode options are Normal?which is useful for daily trips around town, Sport for sharp turns through valleys, Weather for rainy or snowy weather, Mud/Sand for situations when mudslides happen, Rock Crawl to get your through the toughest off-roading trips, and Baja for high-speed desert drags at 100 miles per hour. Critics are a big fan of the Baja mode which when switched on from the wheel console controls shifts into 4x4 high. This pickup is meant to go faster, and the faster it goes, the quieter the cabin.


Speed Features
This 5,500-pound truck has a dynamic new set of suspension and handling capabilities so you feel safe traveling at high speeds. Like it's F-series siblings, the Raptor has the all-aluminum body which helped it shed 500 pounds of weight. Ford also decided to add new 3-inch Fox Racing shocks that are 44 percent bigger and add 0.8 and 1.9 inches of suspension for the front and rear. For better control, there is a 9-stage bypass damping and a hydraulic bump to keep you from bottoming out and help keep the heat at bay.


Ford Raptor Wins 2017 Best Truck Award
The Raptor won the 2017 10Best Trucks this year, and models are nearly selling out. Don't waste another minute reading this product information and get down to your local Phil Long Ford dealer in Denver, Colorado. We offer a wide selection of 2017 Ford Raptors and other pickups in the F-Series.
Call or visit Phil Long Ford Denver today, and we'll take you out for the test drive you are craving.